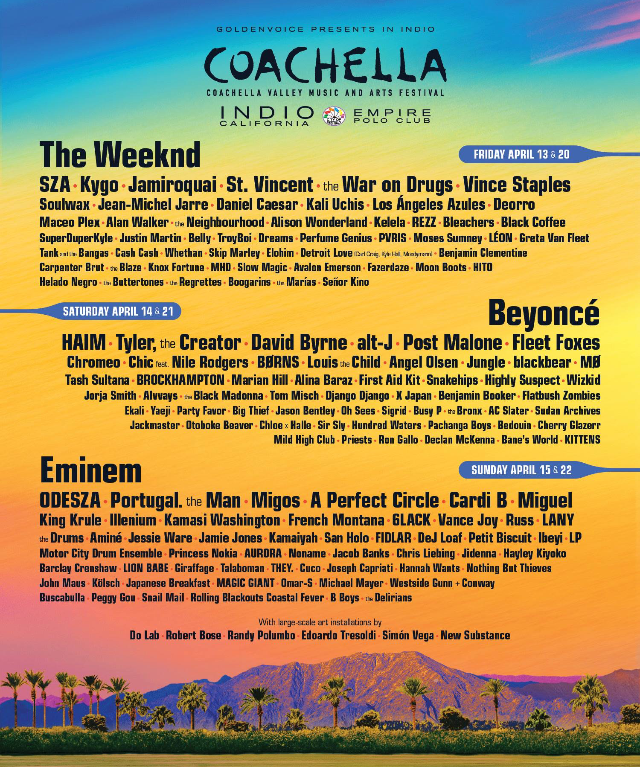 On the eve of the 2019 lineup coming out I thought I'd do some more catching up on blog posts by posting THIS!.
Ah yes… another Coachella.  This one as unique as the last one!   Yes, we did pre-sale in April 2017, of course, so we didn't feel the pressure to buy when the lineup came out.  But I had a lot of new friends where I worked & many wanted to go!!  I, sadly, was working when tickets went on sale, so I had Sex God buy 4 tickets and another camping spot.  It completely frazzled him because the site can be really challenging, but he was successful!
So now we had 5 of us going with 2 camping spots (the sixth ticket we sold to SG's daughter).  I'm quite the planner so I made us all come to my house to do a mock up of setting up the campsite… and thank goodness we DID!  We quickly realized what we needed and who would buy what and how much the reimbursement would cost each of us.  Being prepared is the key to successful camping.   The down note to all this planning was getting the diagnosis of a meniscus tear in my knee.  So even though I got a cortisone shot in my foot for my heel spur I was an injured girl hobbling about.
Sex God went to TOWN on his Fiesta in decorating with hopes to win the Carpoolchella.  Leaving for camping was supposed to be Thursday but they announced a delay in opening camping due to expected high winds.  But that worked out because there was SOOOO much to do!  I wanted to pre-pack the vehicles but Sex God was still decorating and Gloria wasn't going to arrive with her car until we were ready to leave.  So we ended up loading at 5am!  We headed off in our two cars, stopping for food and to switch people with stuff at Indio so the tiny Fiesta would have 4 people in it (a requirement for winning) without those people having to sit cramped for the ENTIRE drive.
We thought we were early, but there was A LOT of people who didn't get the notice that early camping entry was delayed so those people ended up parked & waiting at the Walmart parking lot.  Then Coachella opened the camping at 3am without telling us, so we waited in the long line to get through security and THEN the 8 security lines feeding into one entry line giving us the stress of keeping together so we'd have side by side camping spots.  I was in front and I see a golf cart following Sex God's Fiesta… as soon as we parked they let us know we were winning Carpoolchella!   That consisted of getting to pick a prize from a bowl and while we DIDN'T win the VIP for Life tickets, we did win a VIP upgrade!  Well, THEY did… the ones in that car lol..  I was driving the other car!
Camp set up was quick because we did a rehearsal which was much needed because since we were arriving Friday now instead of Thursday we had to scamper quickly into the venue!   Coachella wasn't exactly new to any of our group but only the bf and I had been frequent goers.  The food choices had expanded hugely!  So we did a visit around to get the lay of the land.  Sadly all the rushed anxiety resulted in a quick blown up argument with Sex God & I over food/money which was just as quickly solved with money for food!  I keep forgetting my slowed metabolism is the opposite of HIS heightened metabolism.  And to be honest, he might have felt a little put out with me bringing my friends and it not be just the two of us.  Of course, I remember the year he brought several of HIS friends and I managed not to get out of sorts. lol
First Day we, of course, saw The Weekend and bounced about to see a few other artists, Slow Magic & Kalela.  My BFF Gloria & I saw Greta Van Fleet and we were blown away!  I kept turning to her to scream "How OLD is this BAND?!"  Because these were youngsters in their 20's playing music (and looking like) something straight outa 70's Glam Rock!  We gave up seeing Alison Wonderland because she clashed with The Weekend & missed The Neighborhood (seen them) and Bleachers (seen them)  due to popping back to the campsite at dusk to change into warmer/comfortable clothes have dinner and to, well,  boost our high for the night!  Everyone tried to continue the fun at the silent disco after The Weekend but the LINES! lol so us oldsters went to bed & the youngsters eventually joined us.
Second Day we separated as a group as my younger co-workers wanted to see more of the House music/Dj's and I wanted to do more lying on the grass with wonderful music around me! (remember knee injury!) Plus THEY all had VIP wristbands, while I did not  My girl Glo stayed with me the entire time….another reason she's my BFF!  We missed Sir Sly (which we'd seen at the El Rey) to experience (an A/C & comfortable seats) House music visual show in the dome.
But we managed to see Marian Hill, First Aid Kit & a bit of Yaeli before popping back to the campsite for food, jeans & drinks.  I gave up seeing David Byrne for that because I was a bit outvoted on WHEN we went back to the campsite!  We topped off the night with Jorja Smith, a bit of Haim and, of course, Beyonce!   The best part of Coachella is seeing someone I WOULD NEVER PAY to see if its just them.  Most of Coachella's headliners fall into that category for me.  The exception being Muse (crossing fingers for 2019!) or Radiohead.
An old co-worker and roommate of one of our group decided to join us, finding a ticket, a place to park their car for the night and a ride to the venue!  They arrived after Beyonce and partied with the other youngsters & crashed in Gloria's SUV (big hearted Gloria!)
Day Three and we'd gotten into a groove even with the addition of other people.  Plus the BEST BAND EVER was playing that day, Nothing But Thieves!!!  We were starting to feel the burnout Day 3 of Coachella sometimes brings, which I actually love about Coachella.  So after popping in to see The Delirians and LP we parked ourselves at our favorite shady spot at the Outdoor stage to see Magic Giant before Nothing But Thieves came on.  There were a LOT of great bands/performers on Sunday and we
missed MANY of them because they conflicted with each other!  The DOWNSIDE to Coachella!  Plus a lot of this "We" was either just me and Glo or me and Sex God.  We saw a bit of DeJ Loaf before popping over to see Hayley Kiyoko.  We saw Cardi B (who I'm a so/so fan of) but missed Portugal the Man for the campsite break.  With the additional of 2 more people the break was even MORE difficult to coordinate!   But we got back in time for Odesza and Eminem.  Eminem was AMAZING!  He really was great to watch and listen to.
The downside of going with friends was the difficulty of Sex God and I to have sex!  By night 3 we were VERY horny and had managed to fight 3 times during the weekend!  So when we got back to our campsite and found none of the youngsters and Gloria solidly asleep in our tent we snuck into my car and solidly steamed up those windows with (surprisingly) delicious car sex!   And finished before the youngsters were done partying in the after hours camping section! Ha!  Fast sex is great ONLY if you manage to get all the buttons pushed in that time… which is the reason my bf's nickname is Sex God! heeheehee
This was the first time camping for most of our group and they were amazed to wake up to the campsite being a ghost town.  Lots of people leave in the night and you rarely notice!  And some scamper away at dawn.   Although we are all very ready to go home (showers! beds! flushing toilets!!) we are still sluggish from a weekend of partying.  Once Motrin & hydration has been passed around we begin the packing process.  It's quick work with Sex God being the squirrel-on-pepsi-general that he becomes!  Cara and Tramell (our crashers) squeezed themselves and their stuff into Gloria's car and she dropped them off at their vehicle.  Sex God and I took most everything else & headed out.
Funiest thing was in the hurry of packing, Sex God found a bottle of water and stuck it into his car cupholder to drink on the drive.  Unbenounced to HIM it was the bottle of VODKA that Monica was going to sneak into the venue on Sunday when they announced we could bring our own bottles of water into the venue (due to the heat!)  He found this out when he took a HUGE slug of the water and then gargle screamed it out in indignation.  Girlfriend struggle of sympathy/laughter is REAL!
We've already purchased 4 tickets & 2 camping spots for next year!!