For some lovely reason, I seem to be a small fountain of knowledge on the Coachella website.  So I thought I'd do a posting on how I did this wonderful 3-day festival last year and how I plan on doing it little differently this year.
Last year was my first festival… and I blogged the experience (of course… when don't I blog an experience!)
What I learned from that experience:  Don't bother with chairs or blankets.. the grass isn't gross and its pretty comfortable.  You won't be able to see EVERY band you want.. cuz  its 130 ish bands performing on 5 different stages all at the same time.  You're going to miss SOME!  lol
There is plenty of food and drink of all varieties but it can get expensive.  If you're not camping I'd pack a cooler of snacks, alcohol & water in your car and take an hour out to visit it occasionally.  We're planning on doing that this year… I'll let ya know how it worked out!  But there are fountains to refill your water because at $2 a pop it gets expensive trying to keep hydrated out in the desert!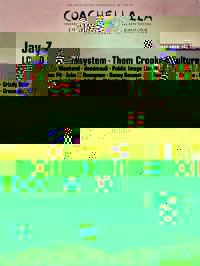 Last year when the line-up was posted on the Coachella website they had a link to almost every band that lead to video of their most popular song.  It was a wonderful way to plan your days.  I printed the line-up out, listed to every video and sorted them into a "yes!" "God no!" and "maybe".  Then I planned on comparing my list to my fellow attendee who, of course, we no where near as obsessive organized as I am so hadn't done much.  But he helped weigh in on the maybe's.
All I'm saying is go as prepared as you can.  You can fluidly change those plans when you're there but not knowing who is playing where and when will make it much less enjoyable.  I've purchased several of the albums from bands I first heard at Coachella.  Both to support the band and because I loved hearing them.
On the Coachella Facebook page you can find in (but its a search!) the  2010 & 2009 lineup.  And several joke line-ups that almost gave me a heart attack!
Right now the only way to buy tickets, that I know of is through the Coachella website.  On the home page is a "Layaway" button and choosing that will walk you through buying tix and camping spots through their layaway program.  I'd have happily paid full price but I didn't want to miss out on a camping spot by waiting until that option was available.

Now… where to stay.  On the Coachella Facebook page there is a lot of talk about how great or horrible camping is.  It really depends on the individual.  Me, I'm 47, and camping wasn't fun for me when I was in my 20's!  I need a nice bed to fuck sleep on and I'd rather cook my breakfast cheaper than buying it at a local restaurant.  So I rented a condo for the trip.
"Oh but the money!" you say.  Well, yes.  Last year was expensive but worth it.. and we learned a lot about how to make it free for us this year.  Back in September I got a condo that sleeps six for a great rate in the nearby town of Indio.  By renting out the other bedroom and the pull out queen for the 3 nights of the festival I will have paid for the condo.  I also bought 2 camping spots with my ticket.  Why, when I have the condo?  Because last year, camping spots were selling for over $500 each on ebay because EVERYTHING was sold out.  There wasn't a single place to stay and its not like its close enough to drive back to L.A. each night!  I plan on selling my camping spots for about the cost of my admission tix (maybe a bit more, hee hee… for alcohol!).
And viola.. my vacation is almost free.  So now I can buy the right shoes for the event!  Because you'll be walking or standing for the better part of 3 days and it is just DAMN difficult to find the right balance between comfort and sexy!  Last year on the first day I went with sexy shoes.  But was sexy no more as I hobbled back to the car in agony.  Next 2 days I went with comfortable tennies but the pix of us at the event.. God, they screamed old foggies!!
You know me.. I refuse to go any place where the man next to me is sexier than I am!  And Sex God was totally getting checked out by the 20 year olds!  But, of course, he's incredibly sexy most times.
So that's how I did Coachella and what I plan on doing this year and every year after that.  It's a wonderful vacation.
Although since we're taking my little car to save on gas, I'm going to have to figure out how to rig the windows for privacy!