In February Sex God and I celebrated 9 years together. We always combine th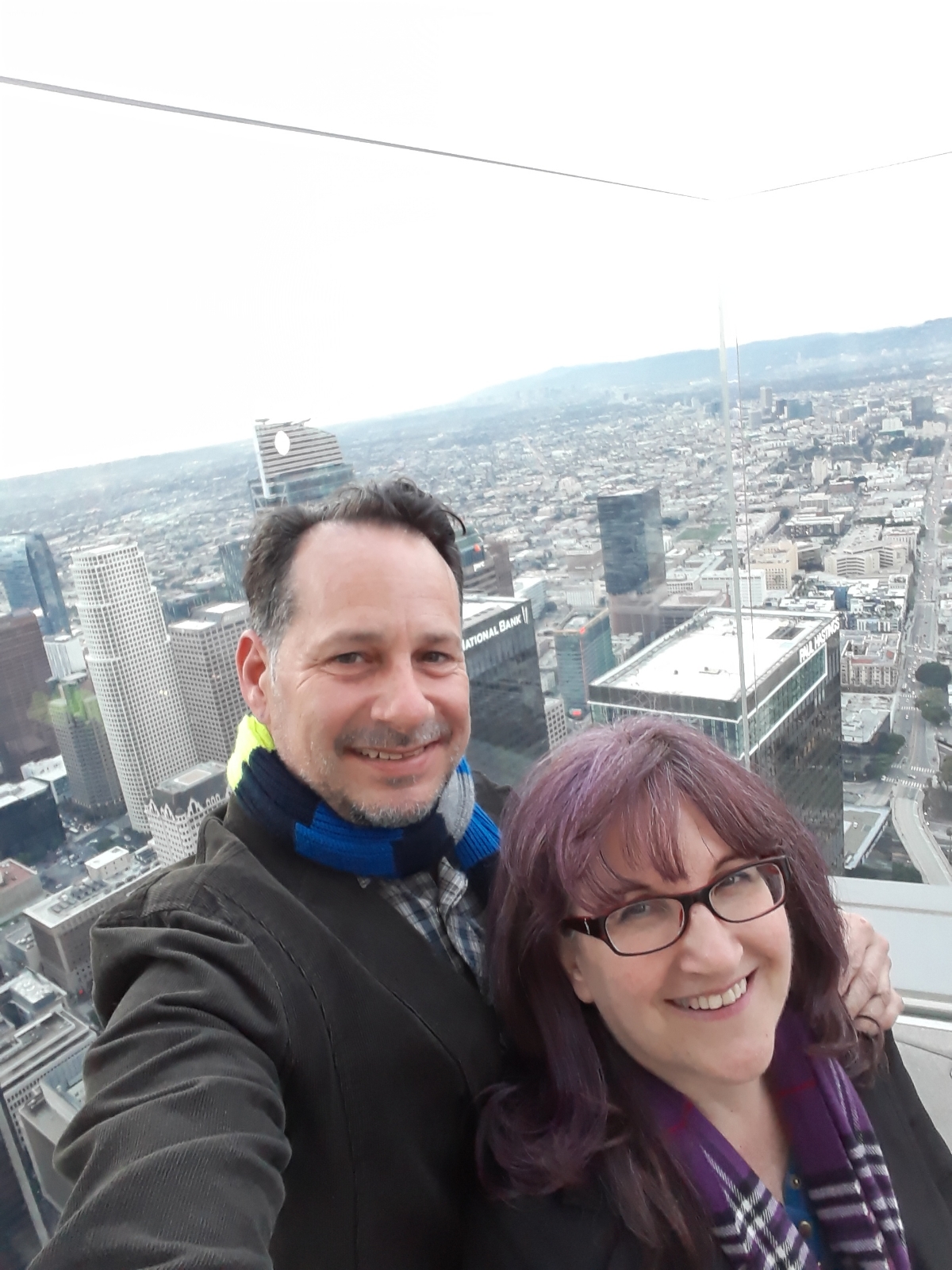 ese celebrations with Valentines Day, since the anniversary is so close to that day and I was lucky enough to think of the perfect gift!
There is this building in downtown Los Angeles that has an exterior slide made of strong clear plastic that goes from one floor to another floor. Doesn't sound very cool until you know that the floors are the 70th floors! So at the top of a building with terrific views of Los Angles they installed a Sky Slide for people to ride. When Sex God heard of this he repeatedly talked about it being on his bucket list. Every time we'd go through downtown he'd remember this and try to look at the buildings to find the slide. This happened again when we went to see AlterEgo, so shortly after that I googled it!
They had several tiers of pricing with the lowest being a particular day and time for $25 a ticket. So I chose a day I had off from work, near our anniversary and Valentines Day and tried to choose a time where we would have a daytime view, sunset view and night view. So much research for a slide!
Sex God was pretty thrilled when I finally told him a few days before the event. Yet, even on that day we both kind of forgot about it and didn't leave enough time to get there, through traffic, by 4pm! So I was freaking out that our tickets would be voided if we weren't there on time and when we finally got there we couldn't find parking ANYWHERE! We went to what looked like a public parking lot and drove all through it looking for a single spot and while we saw many they were all 3 car deep spots and the attendants were not cooperating in helping us in any way. I was so upset I was in tears in trying to get to this event. We finally turned a corner and found parking for $20, threw the cash at the guy and hurried to the event. Well, Sex God would have hurried but he could only go as fast as my rehabing ankle could hobble!
We entered the building and was told at the front desk that the Sky Space entrance was around the corner and up the steps. Still worried at the time crunch….we were 45 minutes past the designated 4pm point… I hobbled up the steps as quickly as I could and was SO relieved when our tickets were happily received. Oddly, there was a security screening point and then we entered the elevator which only went to floor 65. Once off the elevator we were ushered to a photo place, then around to ANOTHER elevator to ride up to the 78th floor. Oh the ear popping!
So finally arriving at the Sky Space it was pretty empty! It was all the exterior rooms of 2 floors packed with viewing windows, a bar, snack bar and 2 outdoor areas. There were maybe 30 some odd people, almost all tourists, with about 6 or so people using professional cameras taking pictures. Since I'd bought 2 tickets to the Sky Slide, the first thing he did was ride it. And the poor man was sadly disappointed. It was too short to get a feeling of fun or even danger for him. And when he rode it again before we left, the thing gave him a shot of static electricity!
I will say the views were beautiful. Thankfully it wasn't raining nor too cold, but it WAS cloudy so we didn't get any gorgeous sunsets and no stars in the sky! lol We decided we didn't want to spend the money on over priced drinks so after about an hour looking at the view and realizing we aren't getting any sunset, we left.
And hobbled our way to our car, cutting through the downtown library instead of going around. Then we got to sit in traffic on the way home! ha! Overall it was a good night, although Sex God might rethink his bucket list if any more of them are as much of a let down as this last one!